The importance of testing to confirm COVID-19 infections has drawn new attention to the role of our healthcare labs. At Royal Columbian Hospital, the lab has a long history that goes back more than 100 years. Nowadays, with more than 5-million tests performed a year and with the generous support of donors to Royal Columbian Hospital Foundation, the hospital's Pathology & Laboratory Medicine Department helps in over 80-percent of medical diagnoses. And that was before the pandemic struck.
"If we don't know what the disease is, then we won't be able to treat the disease," says department head Dr. Reza Alaghehbandan, who explains how the lab can provide answers when basic physical exams or radiographic images don't identify what ails a patient. "One of our main goals as lab professionals has always been supporting and serving public health. When the pandemic came, our role became much more pronounced, both at the hospital and the community levels."
In the early months of the pandemic in 2020, with Royal Columbian designated as one of the province's primary COVID-19 sites, the hospital's lab worked with the region's medical microbiology centre and with the BC Centre for Disease Control to handle and transfer COVID-19 tests and relay the results back to medical teams.
"During that first phase of the disease, we immediately developed a very efficient and logistical process," says Dr. Alaghehbandan.
A few months later, the lab obtained the technology to conduct its own on-site COVID-19 testing. By opening a polymerase chain reaction (PCR) testing room in the lab – complete with Dr. Bonnie Henry's famous mantra 'Be Kind. Be Calm. Be Safe.' displayed on the wall – the hospital gained the ability to test inpatients at the hospital.
"The impact of that was so much that it increases our capacity, it enhances the so-called turnaround time, getting the results back into the hands of our colleagues," says Dr. Alaghehbandan.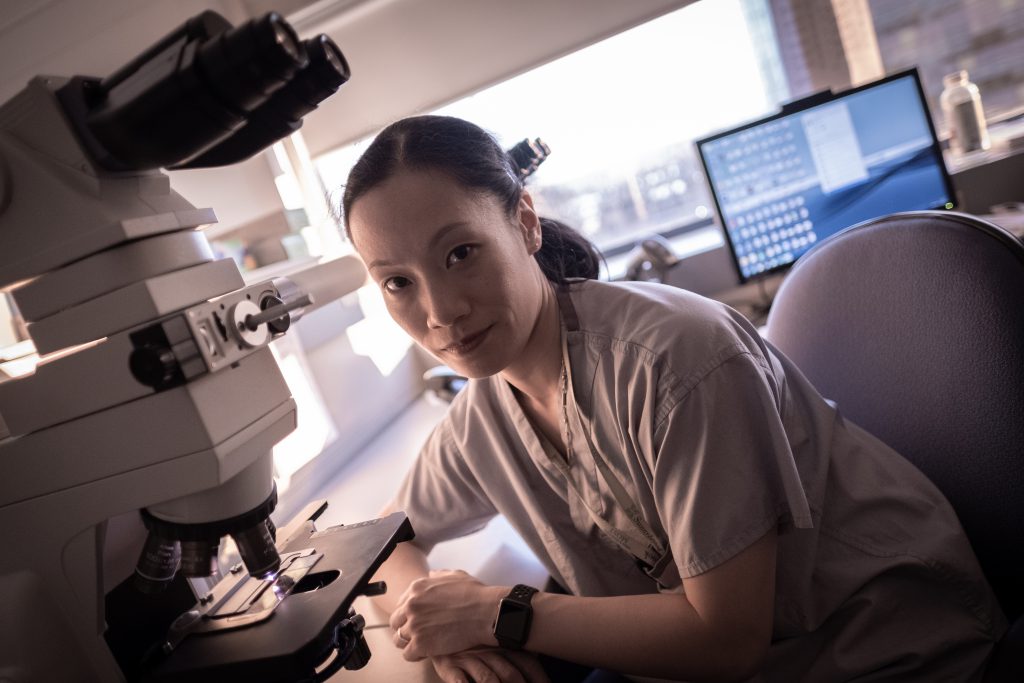 The lab then took on another key pandemic-related role as vaccinations started arriving in our region. With the first mRNA vaccines needing to be kept at very cold temperatures, Royal Columbian provided the infrastructure, expertise, and leadership to help manage the delivery and distribution of the vials.
"And this happened on a 24/7 basis," says Dr. Alaghehbandan, "because sometimes the shipments would come at odd hours, and we had dedicated staff who were here days and nights to make sure that the flow, the inventory is safe and efficient."
While the pandemic has dominated global attention, the hospital's lab has also carried on its usual work testing for cancer, autoimmune disorders, chromosome analysis, and more. In recent years, support from donors to Royal Columbian Hospital Foundation has helped bring in hundreds of thousands of dollars worth of technology, including:
Thinprep 5000 Processor: an essential piece of equipment to support rapid and less invasive cancer diagnosis.
Digital Slide Scanner: converts glass slides into high-resolution digital images, allowing for timely and accurate consultations that lead to patient diagnoses.
FISH Analyzer: used to detect subtle specific chromosome abnormalities.
Optilite Protein Analyzer: helps to provide protein testing, including for patients on chemotherapy.
Coverslip: helps in the safe transport of cancer-related tests for a specialized area called immunohistochemistry (IHC).
Multi-head microscope: allows multiple pathologists to simultaneously view each sample, enabling them to pool their collective knowledge and expertise.
"Thank you donors for honouring us with your support," remarks Dr. Alaghehbandan.