Even if you allow yourself permission to imagine a return to pre-pandemic life, the complete story of COVID-19's toll on society will likely not emerge for a while still. This includes the full effect on our mental health stemming from the anxiety, fear, isolation, financial hardship, and other stressors felt by many since early 2020.
"Based on other epidemics or natural disasters, it usually took a few years for those mental health presentations to go back to a normal level after the end of those crises," observes Dr. Janel Casey, Royal Columbian Hospital's Head of the Department of Psychiatry. "I do think it will gradually get better over time."
Not surprisingly, the pandemic has been at the forefront of the care Dr. Casey and other mental health providers have delivered in the last year and a half. A significant number of patients that Dr. Casey has seen have been associating their current mental health challenges with COVID-19.
"It comes up very frequently when you are getting their history," says Dr. Casey.
Mental health dialogue
While the pandemic has been a global preoccupation, and there has been an increased dialogue about mental health throughout this crisis, the number of psychiatric admissions to the Fraser Health region's hospitals has not changed substantially during the first year.
Between March 2020 and January 2021, bed occupancy remained relatively stable with 9,111 admissions to Mental Health and Substance Use inpatient psychiatric beds, compared to 9,164 admissions during the same period the previous year.
But this includes notable decreases in visits to hospitals during the first months of 2020, when people were self-isolating.
"Same as all areas of medicine, we saw a lack of referrals for a few months at the very beginning of the pandemic," recalls Dr. Casey. "Since then, the numbers have gradually continued to increase. We are seeing a lot more referrals coming through the hospital and our outpatient department. We are providing many of our outpatient assessments via videoconferencing during the pandemic."
And the range of mental health concerns is broad.
"We see more depression and anxiety, but also crisis situations where people are struggling with school, isolation, family and inter-personal difficulties, and the consequences of trying to cope in unhealthy ways like drinking more alcohol or using drugs," says Dr. Casey.
She notes a concerning rise in depression and suicidal thoughts in children and teenagers.
"They are not going into class in person as much, and they don't have the same extracurricular activities," says Dr. Casey. "Then of course they are just not getting social activities in general, such as going out with friends, birthday parties, and other celebrations."
Once someone is admitted to hospital for mental health care, the challenge becomes how to help them return to their communities when the usual supports may no longer be readily accessible.
"It's hard to discharge them back to their same socially isolated housing situation," she notes. "And it's also hard because a lot of the services have changed the way in which they work, understandably."
Moving day
One welcome development in 2020 was the psychiatry department's move from the now-demolished Sherbrooke Centre building to the new Mental Health and Substance Use Wellness Centre, which donors to Royal Columbian Hospital Foundation have supported.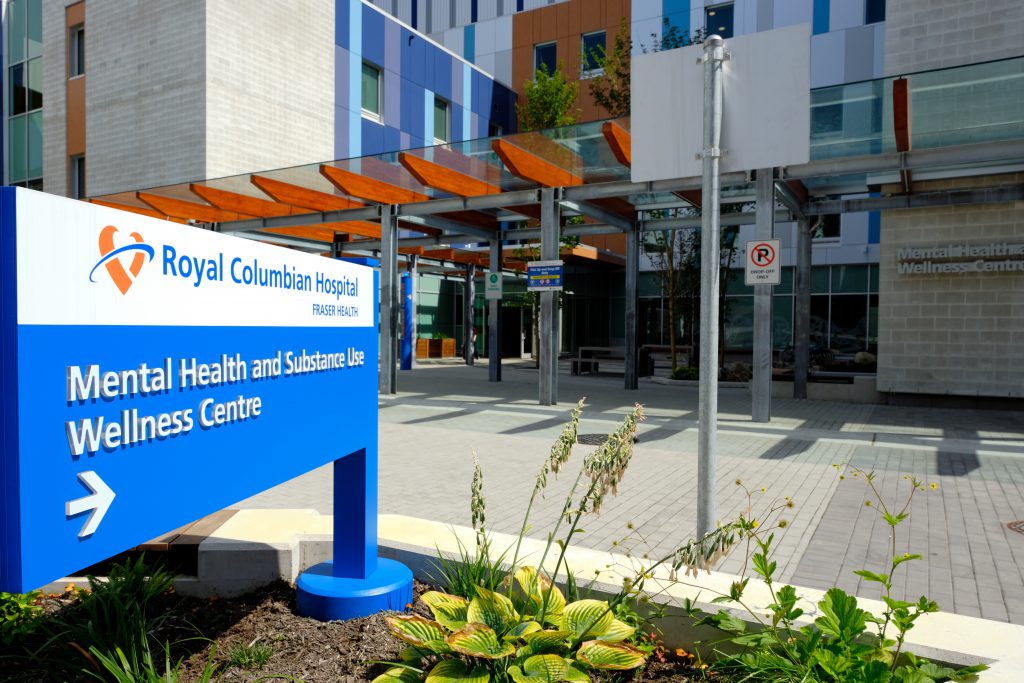 Originally scheduled to open in April 2020, the $258.9 million facility was instead one of two buildings identified by the province as being available should our healthcare system become overwhelmed by a surge in COVID-19 cases.
As BC successfully flattened the curve that spring, the mental health centre finally opened to patients in July 2020. Dr. Casey says the feedback has been largely positive.
"They really like the large private rooms with en suite bathroom. They like having more common space, and they also really love the outdoor balconies," she notes.
For caregivers, it's already hard to imagine how they managed in their former facilities. As they continue to adjust to their new homes, they also wonder what the next year will bring as the pandemic moves into whatever its next phase will be.
"For all of us who are alive now, this is a completely new situation that we have never experienced before, so we will learn a lot."
People of all ages can call the 24/7 Fraser Health Crisis Line (604-951-8855 or toll-free at 1-877-820–7444) if they are experiencing suicidal thoughts or feelings, mental health problems, substance use issues, family violence, abuse, relationship conflicts, or loss.