Give with Heart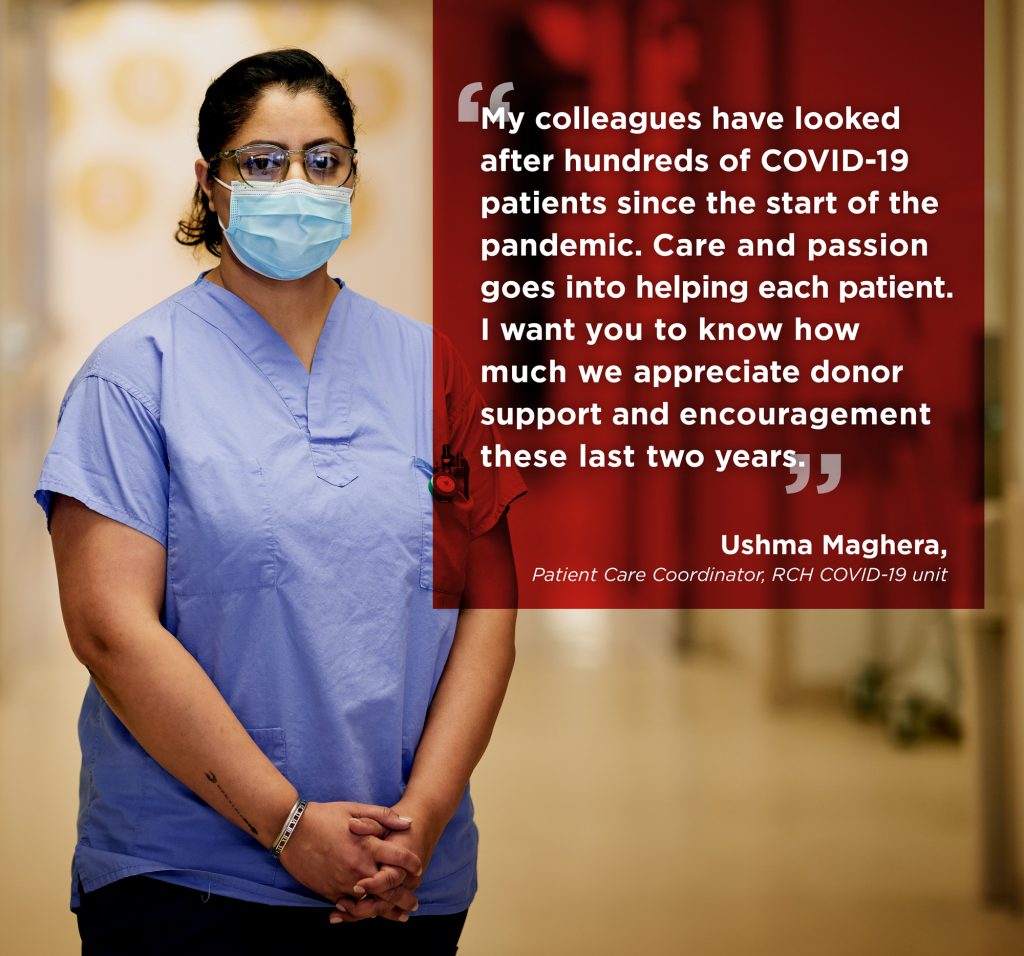 Since the start of the pandemic in 2020, Royal Columbian Hospital has provided care to hundreds of patients who have been hospitalized with COVID-19. The pandemic's multiple waves have put a strain on healthcare and fatigued our caregivers.
But during these challenging times, donors to Royal Columbian Hospital Foundation have been a shining beacon. Your generosity has provided much-needed encouragement, allowed for the purchase of critical technology, and supported the current construction of a new multi-storey Acute Care Tower.
DOUBLE YOUR DONATION #WITHHEART
Right now, donors like you are sending support to our healthcare professionals by giving #WithHeart.
And with help from the doctors who are most familiar with your heart, your next gift will have twice the impact.
Physicians from Royal Columbian's Department of Cardiac Services have stepped forward to match $50,000 in gifts during this appeal.
Join them in honouring the work of our caregivers, and your next donation will be doubled.
Give with heart. Because our care is critical and so is your support.
DONORS LIKE YOU MAKE THE DIFFERENCE
Throughout the pandemic, donors to Royal Columbian Hospital Foundation have provided valuable assistance with funding and in-kind support in a range of areas, including:
Equipment
Research
Patient comfort
Staff wellness initiatives
Our donors allowed the Foundation to respond quickly to the evolving needs of the hospital.
MEETING EQUIPMENT NEEDS
Providing new and innovative equipment remains at the core of the support provided by the Foundation. Donors have helped us acquire a number of tools that have been crucial in the hospital's response to COVID-19, including:
Glidescopes: helps intubate patients safer
Ultrasounds: to assess cardiac and lung status of COVID-19 patients,
Smartphones and tablets: facilitates communication between caregivers, patients, and their families
A germ-killing UV robot: for cleaning and disinfecting "hot spots"
The Foundation has also continued to make research a priority, with more than a million dollars in commitments to research projects over the last year.
CARING FOR OUR CAREGIVERS
In addition to providing the tools to care for patients, the Foundation joined with an overwhelming number of individuals, businesses, and organizations to support wellness initiative, including:
13,699 meals provided to physicians, nurses, allied healthcare professionals, and other staff
55,917 cups of coffee
3,500 care packages
The Foundation coordinated the delivery of PPE donations, worked with hotel partners to provide accommodations for Fraser Health staff and medical staff when they needed to isolate from their loved ones or stay closer to the hospital, and helped share hundreds of public messages of support.
BUILDING FOR THE FUTURE
While pandemic-related needs became the immediate focus in 2020, the Foundation and its donors also continue to support the multi-year, multi-phase redevelopment of Royal Columbian Hospital. In 2020, the new Mental Health and Substance Use Wellness Centre opened as part of phase 1 of redevelopment. Now, construction is underway on a new multi-storey Acute Care Tower during phase 2.
As the hospital's needs continue to evolve and construction progresses on the phases of redevelopment, we look forward to working with our donors in support of our caregivers.
Contact Us
To learn more about how you can support
Royal Columbian Hospital Foundation, please contact 604.520.4438