Brittany Lewins from Mackenzie and Madylon Christley from Kelowna were once complete strangers living at opposite ends of the province until their paths crossed at the Royal Columbian Hospital's Variety Neonatal Intensive Care Unit. Both had babies born at 27 weeks gestation, just three days apart. They forged a forever friendship as they supported each other during their NICU journeys.
Brittany was 26 weeks pregnant when a doctor at a hospital in Prince George confirmed her water had broken after she started bleeding. She was told to phone her husband Tyler and immediately prepare for the flight to Royal Columbian. "We flew through a thunderstorm the entire way. It was terrifying," says Brittany.
Baby Evan was born a few days later, weighing only 1,210 grams. Brittany and Evan would end up staying a total of 105 days in the NICU between Royal Columbian and Prince George. "Every day, it felt like there was something new to overcome," she remembers. "We had good days and bad days. It was scary and rewarding at the same time."
When she was 21 weeks pregnant, Madylon discovered she had no amniotic fluid due to preterm rupture of membranes. At BC Children's, she was told her baby had a 5% chance of survival. She went home on strict bed rest and made it to 24 weeks, when she was flown to Royal Columbian. Husband Colby was right behind, following by car.
"Baby Lydia came out screaming, and Colby and I started bawling," says Madylon. Lydia weighed just 1,070 grams at birth, and spent 99 days in the NICU between Royal Columbian and Kelowna General Hospital.
After realizing they were neighbours at their hotel, Brittany and Madylon became fast friends. "We started doing everything together. I spent more time with Brittany than my own husband," says Madylon. They carpooled, went shopping together, and even invited each other to family dinners.
Both moms received support from Royal Columbian Hospital Foundation's NICU Family Accommodation Fund and from Variety, the Children's Charity. This included their hotel stays, gift cards for gas and groceries, and breast pumps. Brittany recalls, "Having a place to stay took a lot of stress away. It's so much at one time at the beginning. I don't know what we would have done."
Madylon adds, "Colby and I were overwhelmed with gratitude. To know that there were people who cared enough about us to offer this support meant so much. They were totally in tune with what we needed. I have no words."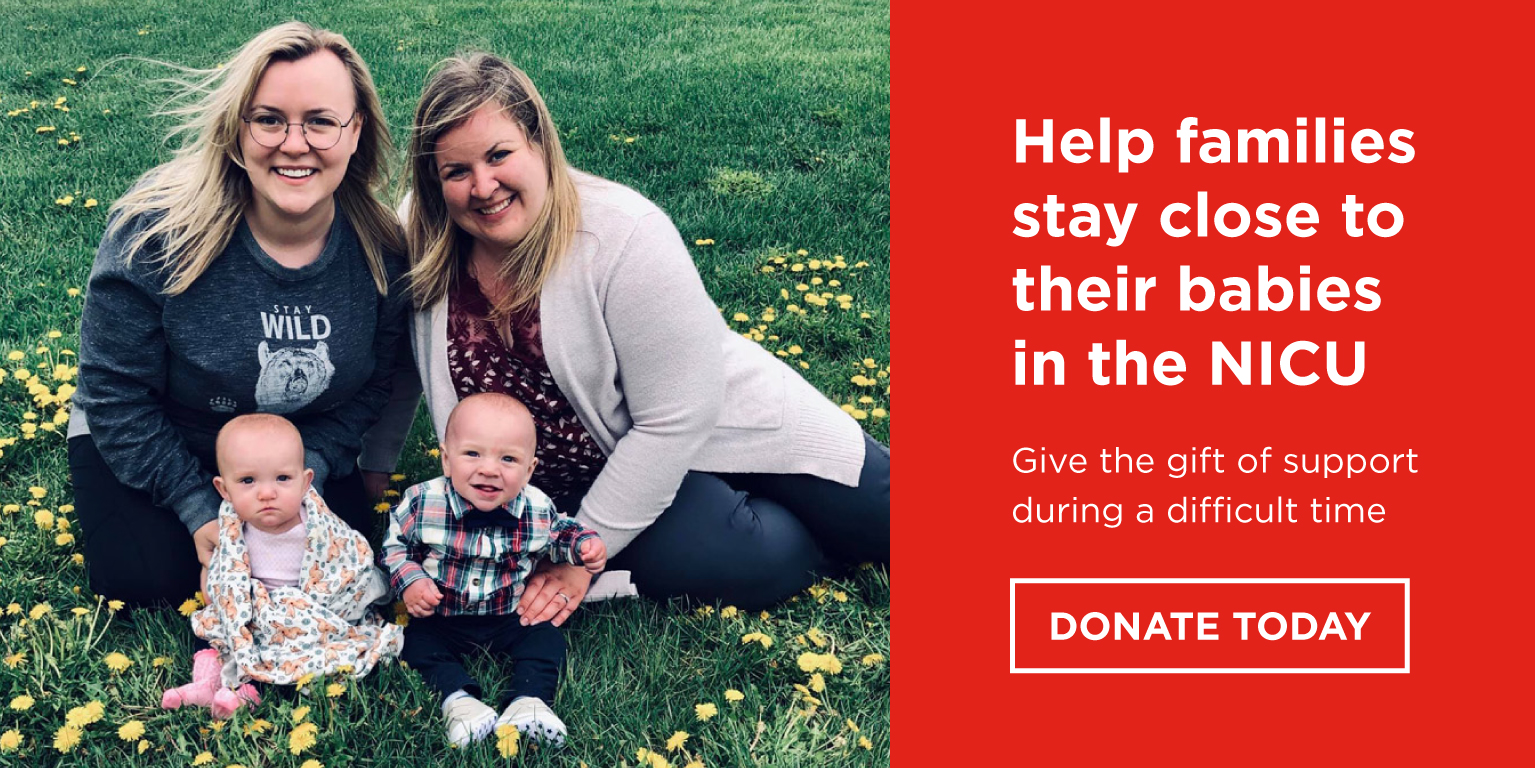 Although they couldn't get together for a planned reunion because of the pandemic, they managed to meet up in Williams Lake for lunch six months after discharge. "Madylon isn't just my friend. She, Colby, and Lydia have become like family," says Brittany. The two even have a running joke. "We both decided our children will get married," laughs Madylon.