Elijah John isn't sure how he pulled himself out of the wreckage. The 18-year-old was in shock, he was struggling to breathe, and his left arm was dangling. All this, after his car hydroplaned off the highway on a rainy November evening as Elijah was going from work to his home in Hope. Thanks to a passerby, Elijah would eventually be rushed to Royal Columbian Hospital – one of the province's two major adult trauma centres.
"I remember trying to yell, and I couldn't," recalls Elijah about the moments after his accident. "All I could really do is almost kind of like a gurgle. I got up on the side of the road and I was trying to wave traffic down. I remember seeing all the semis go by."
Fortunately for Elijah, a passerby turned around and came across the young man, who by this point had begun to think he wasn't going to survive much longer.
"He pulled over," says a grateful Elijah. "I got up and hobbled to the other side of the highway, where he was. I was just begging him for help."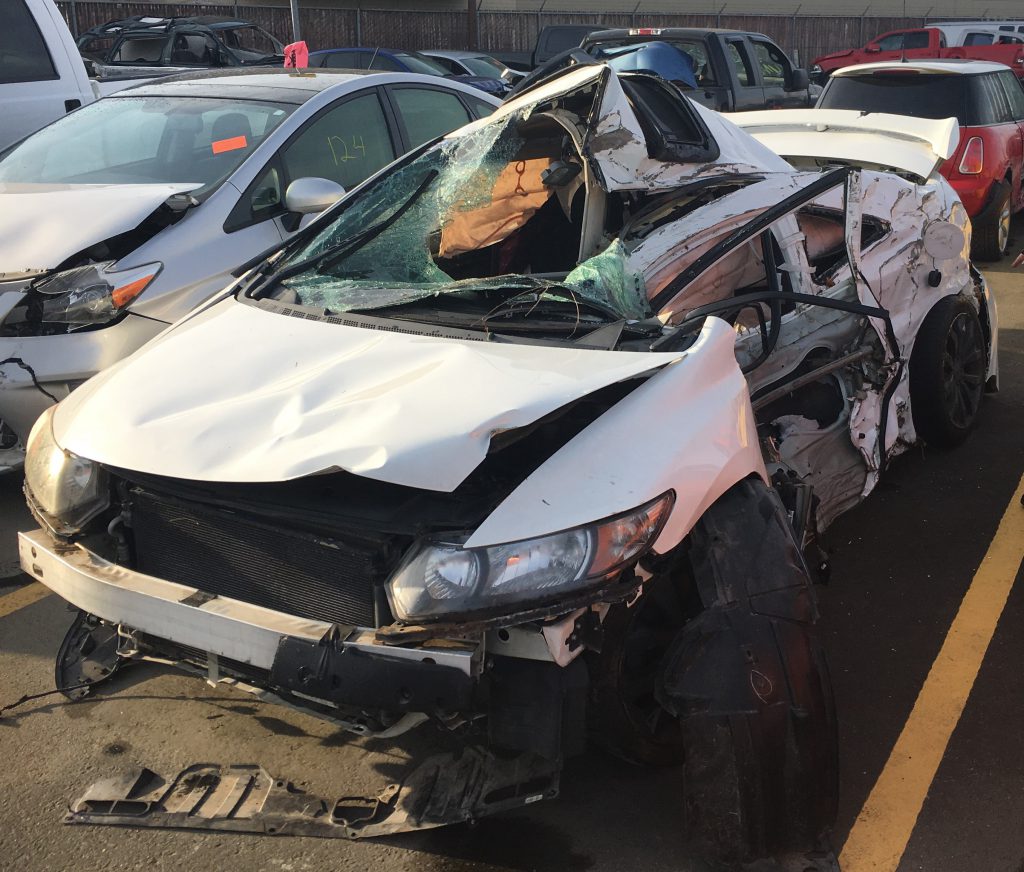 Elijah can't remember how he pulled himself from the wreckage of his car.
Elijah was rushed by ambulance to the hospital in Chilliwack and from there was helicoptered to Royal Columbian, which had activated its trauma team in anticipation of his arrival.
"There's a good, systematic approach to trauma," says Dr. John Taylor, who was the trauma team leader the night Elijah was brought to the hospital. "You just go systematically from A, B, C, D, E – Airway, Breathing, Circulation, Disability and Exposure."
Elijah's forearm was badly fractured. He also suffered a fractured vertebra and some broken ribs. But it was his collapsed lungs that initially most concerned the trauma team. They inserted chest tubes to improve his oxygen levels and stabilize him.
"They put tubes in my lungs that were attached to this machine that kept suctioning out the blood," Elijah describes.
He later underwent surgery to repair his broken arm and was put in a neck brace to stabilize and support the fractured vertebra. Elijah spent two weeks in hospital before he could return home.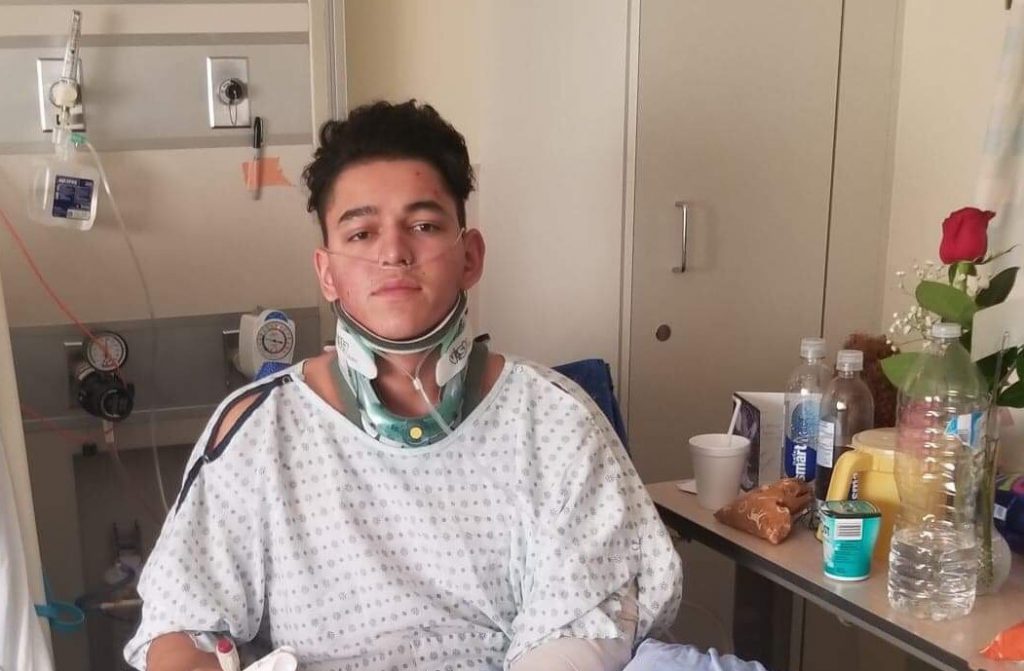 Elijah, recovering at Royal Columbian Hospital.
Trauma nurse practitioner Kathleen Fyvie credits Elijah's family for being an active part of his recovery.
"Effective trauma care is a collaboration with the trauma care experts, the patient and their significant others. Elijah's family was instrumental in supporting his psychosocial wellbeing and were open and proactive with their questions and concerns.
Three months later, Elijah has mostly recovered and calls the care he received at Royal Columbian "beyond good."
"I felt comfortable and safe in the hands of each team and each employee that looked after me there," he says.
Make a difference for emergency patients like Elijah. Provide support for our ER & trauma teams when the moment is critical.